Commercial Office
Searching for a professional in the commercial office air duct cleaning industry?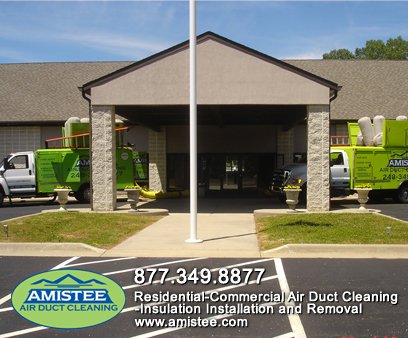 Amistee Air Duct Cleaning understands the importance of properly cleaning and maintaining a commercial office building. There is a long list of items to be checked off in order to make sure that the working environment is one that promotes health and productivity. Although it may not be as visible as dirty windows or stained carpets, a professional air duct cleaning should be part of any commercial building owner's maintenance plan. According to the Environmental Protection Agency (EPA), any preventative maintenance plan should include ""monitoring, inspecting and cleaning HVAC components such as outside air intakes, outside air dampers, air filters, drain pans, heating and cooling coils, the interior of air handling units, fan motors and belts, air humidification, controls and cooling towers." "Amistee Air Duct Cleaning has been a leader in the commercial duct cleaning industry and takes pride in providing a professional and comprehensive cleaning that members of the Southeastern Michigan community have come to depend on.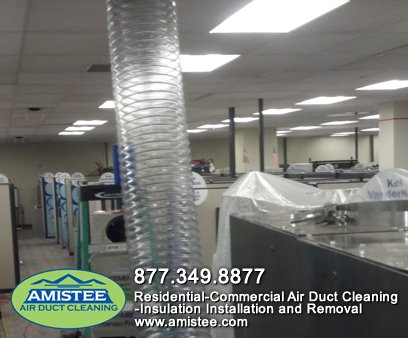 The ultimate goal of Amistee Air Duct Cleaning is to improve your indoor air quality and each of our team members is dedicated to providing a complete and thorough cleaning of your commercial office building's entire HVAC system. We pay attention to even the smallest details in order to guarantee that our duct cleaning has removed anything that has the potential to become airborne. Our technicians are trained according to the National Air Duct Cleaners Association (NADCA) to ensure that they have the most complete understanding and innovative methods to properly clean your office building's ventilation system. At Amistee, we have critically considered every step of our cleaning and this includes the type of air duct cleaning equipment we use.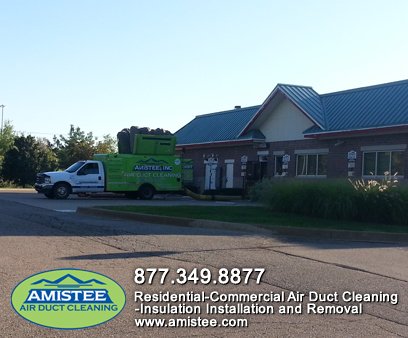 When our technicians arrive, you will see our PTO driven vacuum trucks painted our signature green and stamped with our company logo. The compressor on this vacuum truck uses negative air pressure to create a powerful vacuum throughout the ductwork of your commercial space. The suction measures between 16,000 and 17,000 cfm, which is the most permitted without crushing or damaging the ductwork. The team at Amistee only uses industry-specific air scrubbing tools to make sure that we are providing a quality and professional cleaning of the ductwork system that will result in improved air quality for you and your employees. The owners of Amistee do not believe in taking shortcuts and this is made evident in every step of our commercial cleaning process.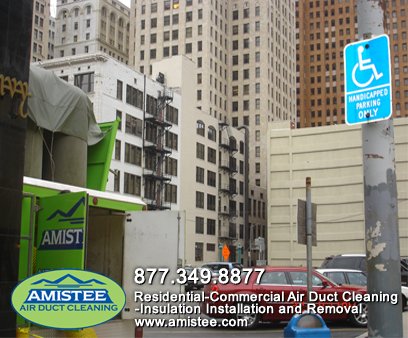 The air duct cleaning specialists will systematically clean every component of office building's HVAC system while causing minimal disruption to your business operations. We are committed to taking that extra step in order to meet and exceed your expectations. Amistee has been providing air duct cleaning to commercial office buildings since 2005 and has become a trusted service provider in Southeastern Michigan. No matter what size your office building is, our team is properly prepared with the knowledge and experience to guarantee a comprehensive cleaning of the ventilation system. We encourage you to see what others are saying about Amistee. We have built a reputation based on providing an honest air duct cleaning service at an affordable cost. Call Amistee today at 248-349-8877 and find out how easy it is to schedule a free estimate.


Our Promise to You... At Amistee, we are committed to the quality of our work. We offer a 90 day guarantee in order to make sure you are completely satisfied. If you do not feel the job was completed properly, let us know. We will come back and make sure the issue is resolved. No charge, guaranteed.