Dual Duct System
Searching for a professional to properly clean the dual duct system in your commercial facility?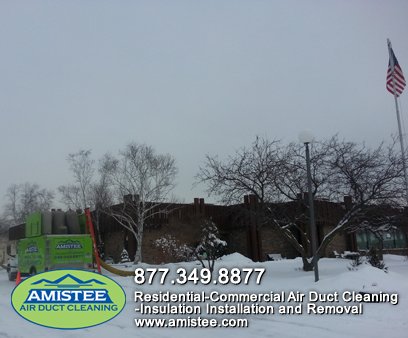 Dual Duct systems are complex and should only be maintained by a service provider that is both knowledgeable and experienced. The team at Amistee Air Duct Cleaning has the level of expertise and the proven reputation to provide a dual duct system cleaning that you can trust is both thorough and complete. We have been delivering duct cleaning services to members of the Southeastern Michigan area since 2005 and have cleaned the dual duct systems in hospitals, museums and universities. Amistee is committed to making sure every component of the ventilation system has been properly inspected and cleaned and each of our team members are dedicated to meeting and exceeding your expectations.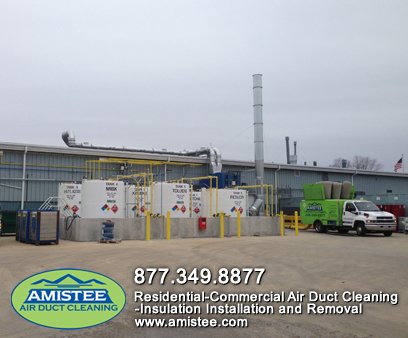 Call our main office today at 248-349-8877 and find out how easy it is to schedule a free estimate with one of our professional customer care agents. The team at Amistee Air Duct Cleaning is highly-trained on different types of heating, ventilation and air-conditioning (HVAC) systems, including a dual duct system. This form of ventilation system is typically found in large commercial facilities and has the ability to condition the temperature of the air with constant airflow. In the dual duct system, there are two parallel lines of ductwork and each one has either a heating or a cooling coil placed in it. As the air from the supply fan is pushed through, the coils either cool or heat the airflow stream.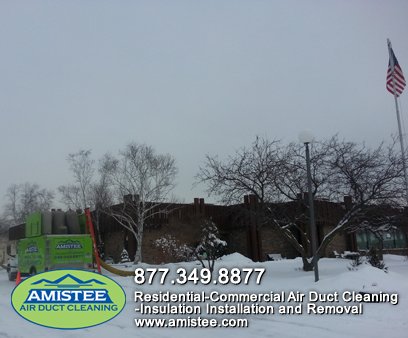 The two airflow streams are then then mixed to control the temperature in each zone. Debris and contaminants can accumulate within the dual duct system and can be distributed through the indoor air of your commercial facility. This build-up can also limit airflow causing your heating and cooling equipment to work harder and be less efficient. This results in higher energy expenses and a decreased life expectancy of the HVAC system. Commercial duct systems, including a dual duct system, are more complex and require a skilled set of professionals to ensure the work is done correctly.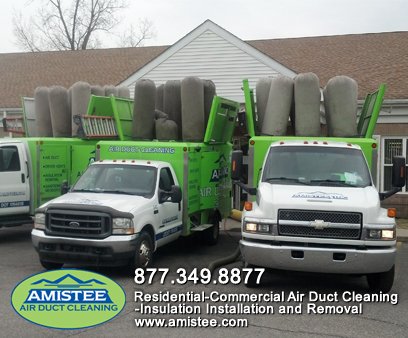 It also requires the most powerful equipment in the air duct cleaning industry to provide the right pressurization within the ducts. Amistee Air Duct Cleaning has a complete understanding of commercial facilities' ventilation systems and has become a leader in the commercial duct cleaning industry. Each of our team members are trained according to the National Air Duct Cleaners Association (NADCA), which is considered the authority in the air duct cleaning industry. From our PTO driven vacuum trucks to our air-scrubbing tools, the owners also take pride in having the most advanced air duct cleaning equipment that is properly maintained for optimal performance. Amistee understands that there are no shortcuts when you are providing a quality and premium vent cleaning service.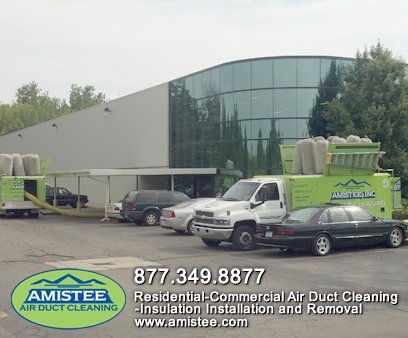 Contact Amistee and arrange an appointment that is convenient for your schedule. Our team of professionals will work with facility managers, property owners and building blueprint designs to provide a thorough and complete dual duct system cleaning at an affordable cost. We can work with you to schedule the air duct cleaning around building activities in an effort to avoid disrupting the productivity of your commercial building. Our level of professionalism goes unmatched so call us today and find out why we are the preferred commercial air duct cleaning service provider in the Metro Detroit area.


Our Promise to You... At Amistee, we are committed to the quality of our work. We offer a 90 day guarantee in order to make sure you are completely satisfied. If you do not feel the job was completed properly, let us know. We will come back and make sure the issue is resolved. No charge, guaranteed.