Fan Coil Unit Cleanings
Amistee provides fan coil unit cleanings to help improve the air you breathe.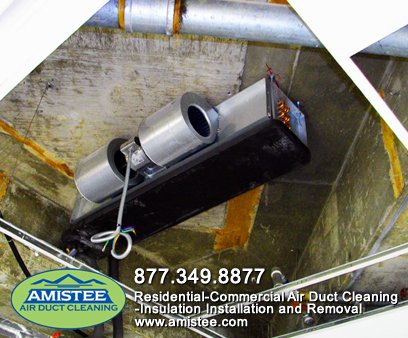 Amistee Air Duct Cleaning is a locally-based, family-owned service provider that has been delivering air duct cleaning services to over 13,000 businesses and homes in the Southeastern Michigan community. The team at Amistee is dedicated to providing a quality duct cleaning service that improves the indoor air quality of your building and helps maintain your heating, ventilation and air-conditioning (HVAC) system. We specialize in residential and commercial properties and have become a leader in the air duct cleaning industry. No matter how difficult or unique the vent cleaning may be, our highly-trained team has both the level of expertise and the proven reputation to comprehensively clean all of the components in your ventilation system.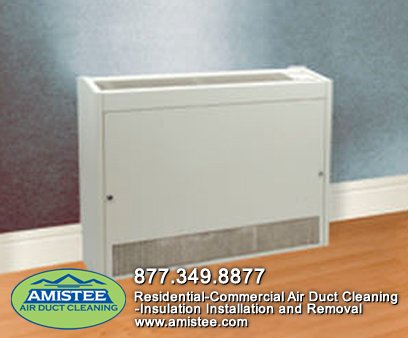 One component of your HVAC system that can have a strong impact on the quality of the indoor air in your residential, commercial or industrial building is a fan coil unit. A fan coil unit can be mounted into the wall or the ceiling or it can be exposed and freestanding. The most common places you find fan coil units are in hotels, dormitories or apartment complexes. A fan coil unit is a device that consists of a heating and cooling coil and a fan. It is considered part of the HVAC system but it is usually not connected to the ductwork. The coil is used to condition the temperature of the air and then the fan is used to distribute the air throughout the space. As the air passes over the coil, debris can accumulate on the coils or blades of the fan.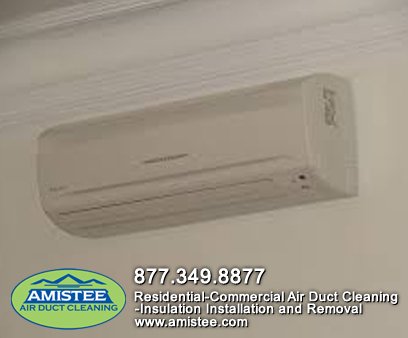 This debris can include dead skin cells, pollen, allergens, dirt, mold spores, pet dander, insects and many other contaminants that can pollute your indoor air. As the build-up accumulates, it can have an insulating effect and prevent the coils from heating or cooling the air. This causes the equipment to work harder and increases your energy costs. In order to properly maintain your HVAC system, a professional should clean all the components on a routine basis. According to the National Air Duct Cleaners Association (NADCA), "Cleaning methods shall not cause any appreciable damage to, displacement of, inhibit heat transfer, or erosion of the coil surface or fins, and shall conform to coil manufacturer recommendations when available."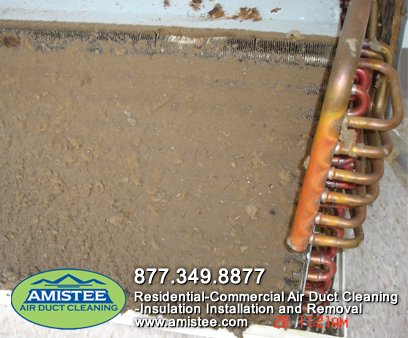 Amistee Air Duct Cleaning is a proud member of NADCA and each of our team members are trained according to their standards. We take pride in offering a complete and thorough cleaning of the fan coil unit by using the most advanced cleaning techniques in the duct cleaning industry. The owners are also dedicated to providing each technician with state-of-the-art equipment that is both powerful and properly maintained. Our specialized compressed air instruments will remove any build-up that has accumulated on the fan coil unit and the negative air pressure from our PTO driven vacuum truck will properly dispose of the debris. The team at Amistee takes careful consideration of every detail so you can be confident that the cleaning of your HVAC system is done the right way.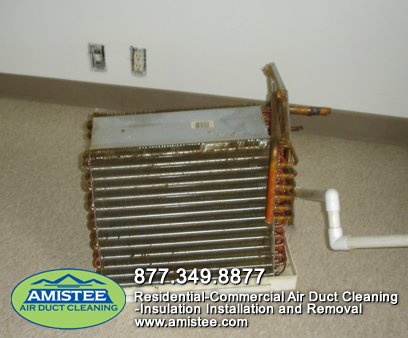 Call Amistee today and find out how easy it is to schedule an appointment. Our professional customer care agents understand how valuable your time is and are careful to schedule a time that is convenient for your schedule. At Amistee, we take that extra step to make sure that we have met and exceeded your expectations. Call our main office at 248-349-8877 or visit the "Contact Us" page for more information.


Our Promise to You... At Amistee, we are committed to the quality of our work. We offer a 90 day guarantee in order to make sure you are completely satisfied. If you do not feel the job was completed properly, let us know. We will come back and make sure the issue is resolved. No charge, guaranteed.