Flex Duct
Searching for a professional in Southeastern Michigan that knows how to clean flex duct?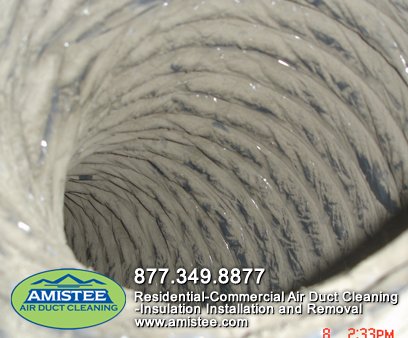 Flex duct has the potential to be easily damaged if not cleaned by a proven expert who has both experience and the correct equipment to perform the cleaning properly. Amistee Air Duct Cleaning has both the expertise and the proven reputation to provide a thorough and comprehensive cleaning of any ventilation system, including those consisting of flexible duct. We are proud members of the National Air Duct Cleaners Association (NADCA) and each of our team members are trained according to this standard.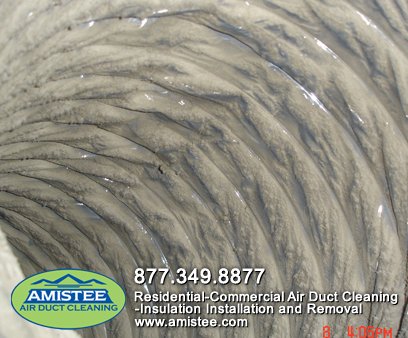 They are updated with the most innovative methods in our industry in order to ensure that we are knowledgeable of the most advanced techniques in air duct cleaning. We are committed to providing a quality and premium service to the businesses and homes of Southeastern Michigan and make every effort to meet and exceed their expectations. From our highly-trained team members to our technologically-advanced equipment, Amistee is prepared to provide a complete air duct cleaning service to any type of ductwork system, whether it is galvanized steel, fiberglass duct board or flexible duct.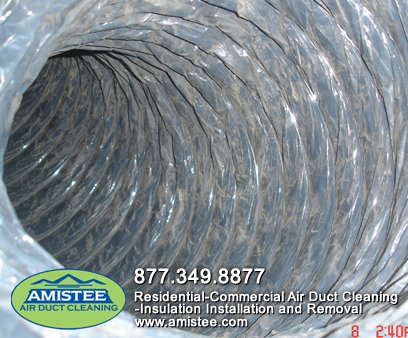 Due to its delicate nature, flex duct should only be cleaned by a professional. The flexible ducts, or flexible duct, found in a heating, ventilation and air-conditioning (HVAC) system consist of three components. The outer layer is a polyethylene protective liner. The layer beneath the liner is fiberglass insulation. The interior layer is polyethylene liner with embedded round metal wire to maintain the shape of the duct. There are several reasons why flex duct would be used. The first is that it is simple to assemble and manipulate so if you have to avoid obstacles flex duct would be the easier to work with. The second is that flex duct is cost-effective because it is inexpensive and insulated to help with rising energy costs. There are also some very important precautions to take when using flex duct in an HVAC system.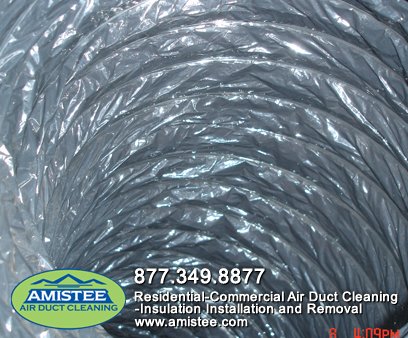 The length of the runs of flex duct should be kept short to avoid static from building up and reducing air flow. Also, the polyethylene liner can deteriorate over time or rodents can easily chew through the liner and the ductwork would need to be replaced. Another reason you may need the flexible duct replaced is if the cleaning crew that was hired to clean the flex duct hose did not do it properly and damaged or tore the inner liner. If the inner liner is torn or punctured, the fiberglass fibers will filter throughout your HVAC system and pollute your indoor air causing a health hazard. Amistee understands the importance of providing a professional and complete cleaning of the ductwork in your business or home and takes careful consideration to maintain the integrity of your flex duct.

When you choose Amistee, you are expecting the best in air duct cleaning and we take that expectation seriously. Before our technicians begin the cleaning of the flex duct, they will inspect the quality of the interior liner to make sure that it has not deteriorated to the point where it needs to be replaced. They will then strategically select the proper tools to perform a comprehensive cleaning of the flexible duct. Our team is equipped with air whips that use compressed air to loosen or agitate anything that has accumulated within the ductwork. Then, using specific methods that maintain the pressurization in the flex duct, the debris is pulled down through the ductwork using negative air pressure, out through our vacuum hose that is connected to the main line of your ductwork and properly disposed of in our PTO driven vacuum truck. It is a strategic flex duct cleaning process that the technicians at Amistee have perfected in order to give you the confidence that the flexible duct was cleaned properly.
Call Amistee today at 248-349-8877 or visit our "Contact Us" page for more information.


Our Promise to You... At Amistee, we are committed to the quality of our work. We offer a 90 day guarantee in order to make sure you are completely satisfied. If you do not feel the job was completed properly, let us know. We will come back and make sure the issue is resolved. No charge, guaranteed.