Heat Pump
Amistee delivers a complete cleaning of the heat pump in your HVAC system.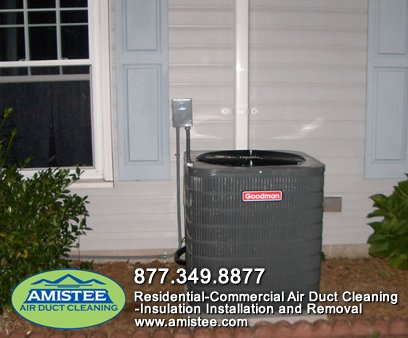 According to the U.S. Department of Energy, "Like all heating and cooling systems, proper maintenance is key to efficient operation. The difference between the energy consumption of a well-maintained heat pump and a severely neglected one ranges from 10% to 25%." Proper maintenance includes routine cleanings of the heat pump in your heating, ventilation and air-conditioning (HVAC) system by a qualified professional. Amistee Air Duct Cleaning has built a reputation based on honor and integrity among members of the Southeastern Michigan community. Our level of expertise goes unmatched making us a leader in the air duct cleaning industry. Amistee's team of technicians has the qualifications and the experience to properly clean the heat pump in your ventilation system.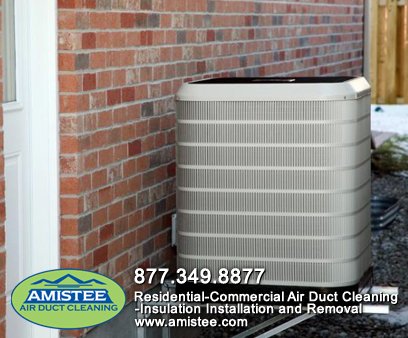 Heat pump systems are used to move heat from one area to another in order to control the temperature. The most common type is the air-source heat pump, which transfers heat between your home and the air outside. Other types include geothermal, mini-split, and absorption heat pumps. These devices use a reverse valve and optimized heat exchangers to reverse the direction of the heat flow. By controlling the amount of heat and humidity that is exchanged, this system can condition the temperature of the air within the home or business. If properly maintained, heat pumps have also been found to have less operating costs because they are transferring heat as opposed to generating heat.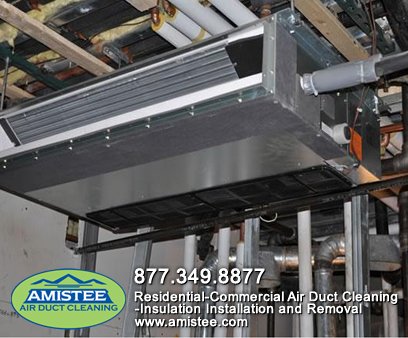 As the air flows over the heat pump, debris and contaminants can accumulate. This build-up can include dead skin cells, pet dander, allergens, mold spores, insects, dirt, construction debris and many more pollutants that will filter into the indoor air quality of the residential or commercial property. It also causes the heat pump to work harder, reducing the lifetime expectancy of the equipment. Amistee provides a thorough cleaning of your heat pump system in order to properly maintain your ventilation system and the indoor air quality of your home or business. We understand the importance of a comprehensive cleaning and offer only the highest quality of air duct cleaning services.

Amistee is a proven leader in the duct cleaning industry. Our team members have been servicing the area of Southeastern Michigan since 2005 and have cleaned over 13,000 homes and businesses of all shapes and sizes. Our technicians are dedicated to providing a thorough and comprehensive cleaning of any HVAC system, including a heat pump system. The owners of Amistee make sure that when our team arrives at your home or business, you are in capable hands that are fully prepared to deliver a complete duct cleaning service. Our air duct cleaning specialists are trained according to the standards of the National Air Duct Cleaners Association (NADCA), which Amistee is a proud member of. Their standards are considered the authority in the air duct cleaning industry. We also implement a rigorous training program at our in-house training facility to offer hands-on experience and help keep our team up-to-date on the most innovative methods and techniques in duct cleaning services. Our technicians are equipped with the most advanced equipment in the industry to ensure they have the right tools to perform the work correctly. Our PTO driven vacuum trucks are the most powerful in air duct cleaning and each of our specialized air-scrubbing tools are industry-specific and properly maintained.

Call Amistee today at 248-349-8877 and find out how we can help properly maintain the heat pump system in your home or business and improve the indoor air quality you are breathing in.


Our Promise to You... At Amistee, we are committed to the quality of our work. We offer a 90 day guarantee in order to make sure you are completely satisfied. If you do not feel the job was completed properly, let us know. We will come back and make sure the issue is resolved. No charge, guaranteed.