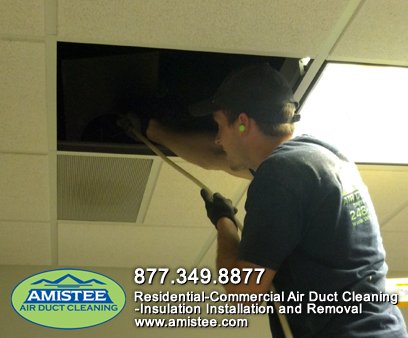 Amistee understands the importance of properly maintaining your home or commercial property and we also understand how unnerving it can be when you discover mold growth within your residence or building. If left unattended, mold can lead to excessive damage because it gradually destroys what it is growing on. Mold spores have also been shown to aggravate health issues such as asthma and allergies. The team members at Amistee make it a priority to address any microbial issues from a practical perspective and are equipped with a complete understanding and specialized equipment to remove any particulates from your ductwork system. Mold will only grow when there is water damage, high humidity or dampness and the most difficult part of a mold growth issue is preventing the spores from spreading through the air. Once the source of moisture has been identified and resolved, Amistee will eliminate any microbial growth that has accumulated within your vent system and is polluting the quality of your indoor air.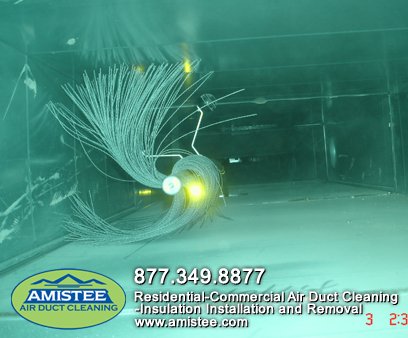 The team at Amistee Air Duct Cleaning provides a complete and thorough air duct cleaning service that guarantees the removal of any debris that has the potential to become airborne and also offers an antimicrobial deodorizer to eliminate any mold or odor issues within the ventilation system. If there is evidence of microbial growth within the ductwork, our highly-trained technicians have the proper knowledge and equipment to address the issue. Mold will only grow if there is a controlled temperature, a food source and moisture to live and reproduce. The debris that accumulates within the ductwork provides an ideal food source, your heating and cooling equipment provide a comfortable temperature and humidity is provided either from the humidifier on the heating equipment or the coils found in the air-conditioner unit. When the heating, ventilation and air-conditioning (HVAC) system is in operation, the mold spores within the ductwork are distributed throughout the building and pollute the air that you breathe.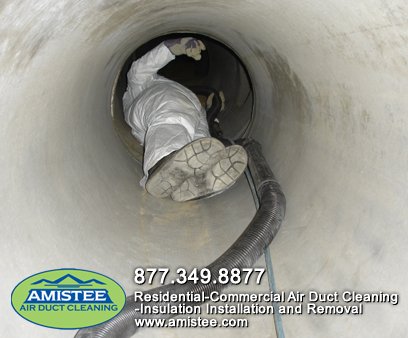 Once the HVAC system has been thoroughly cleaned, our technicians will fog the vent system with a product that eliminates any mold within 48 hours. It is a chlorine-based, odorless product that is registered with the Environmental Protection Agency (EPA) and has the lowest toxicity rating available. It is safe to use within your home or building and will resolve the mold issue so you can be confident that your indoor air is not polluted with mold spores and other contaminants. Our air duct cleaning itself is comprehensive and will remove any debris that has built up within the vent system but if you have a concern that there is mold, the team at Amistee is fully capable of resolving that issue as well. We take pride in providing a complete air duct cleaning service that members of Southeastern Michigan can trust.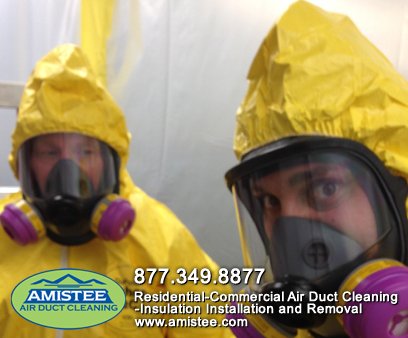 There are many misconceptions and misunderstandings concerning mold growth in the HVAC system of a business or home. Some air duct cleaning service providers insist on using an antimicrobial deodorizer, or what is commonly called a "sanitizer," with every cleaning and will use misleading tactics to confuse the issue as to whether or not it is necessary. The team at Amistee has no intention of providing misguided information concerning our air duct cleaning services and our honest and knowledgeable customer care agents will answer any questions you might have concerning the mold issue in your home or business. Our level of expertise and our proven reputation make Amistee a company members of the Metro Detroit area can rely on when they are looking for accurate information. Call Amistee today at 248-349-8877 and find out how simple it is to schedule an appointment.


Our Promise to You... At Amistee, we are committed to the quality of our work. We offer a 90 day guarantee in order to make sure you are completely satisfied. If you do not feel the job was completed properly, let us know. We will come back and make sure the issue is resolved. No charge, guaranteed.