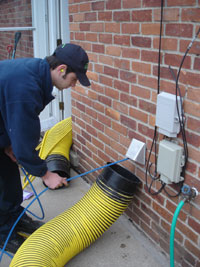 DRYER VENT CLEANING – Southeast Michigan
The State Fire Marshall advised home owners to clean their dryer vents. Most dryer vent fires start with a buildup of lint, which blocks air flow and ignites when it becomes too hot.
In 2003 there were 425 dryer vent fires resulting in 6 injuries and 1 death in Michigan alone. Debris can collect in the venting creating a kindling type situation. Clogged dryer vent causes house fire.
The State Fire Marshall suggests getting your dryer vent cleaned by a professional. When performing a dryer vent cleaning we perform the work from the dryer to the outside. This ensures safe airflow for your dryer also increasing the efficiency of your equipment.
Dryer Vent Cleaning – Amistee Duct Cleaning Michigan services most cities in Southeast Michigan for dryer vent cleaning and air duct cleaning. Call Today: 877. 349.8877 FREE ESTIMATE or visit our website for more information